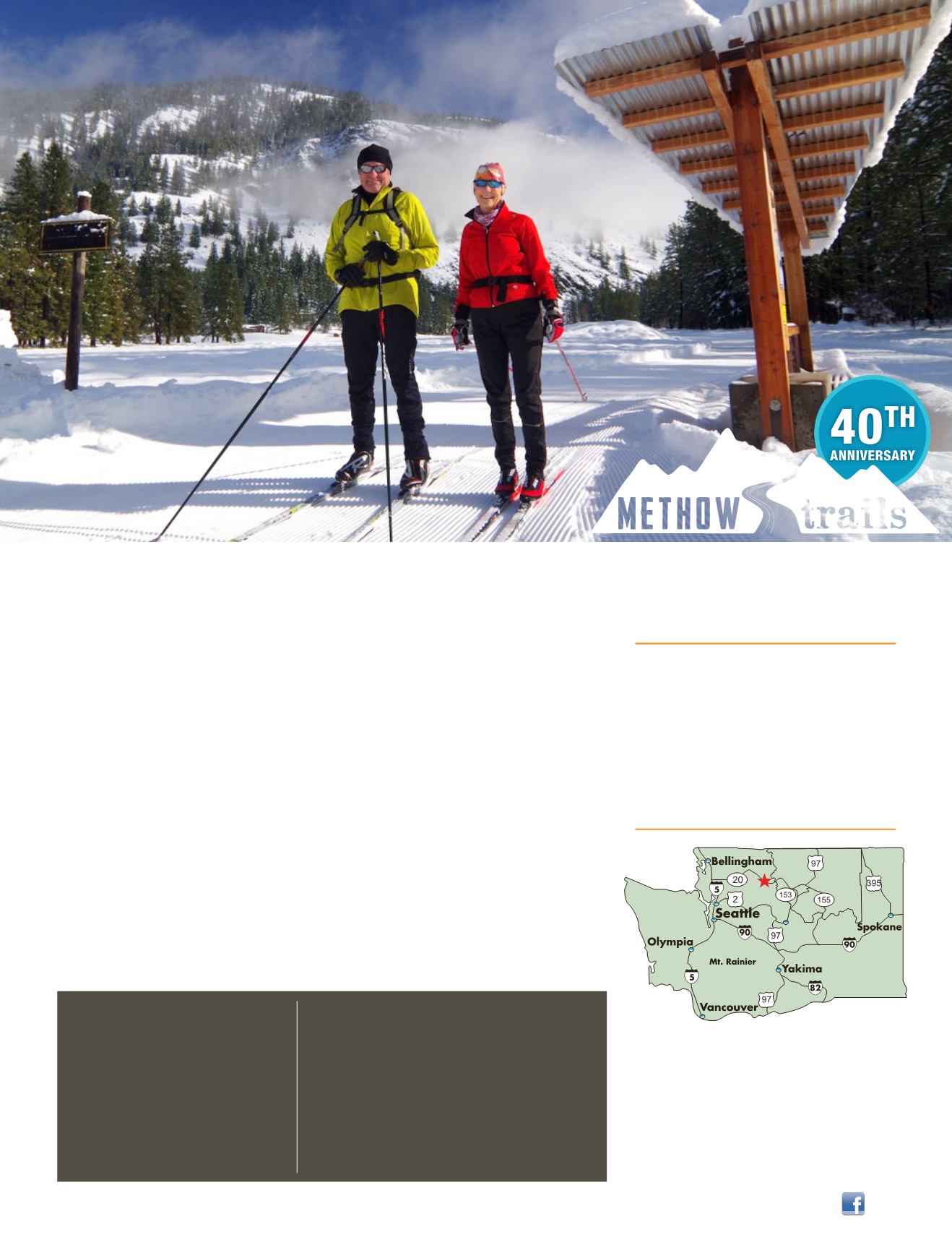 Methow Trails
|
3
From our humble beginnings of wanting to create a great cross-country ski trail system in
Washington State, we now:
• Are North America's largest cross-country ski area, with over 120 miles of trails.
• Offer free skiing every day to kids 17 and under.
• Have over 175 landowners who graciously allow easements for public trail access on
their properties.
• Employ a 10-member ski-grooming teamwith over 140 years of collective ski-grooming
experience, a 5-member office team, and a dedicated board of directors. Each one of us
is a passionate trail enthusiast.
• Provide free spring, summer, and fall trail access at 11 Methow Valley trailheads.
• Manage and market a trail system that generates $12.4 million per year for the
local economy.
• Have the support of over 1,200 businesses, organizations, and individuals who believe in
our Trails for Life mission.
It is with everyone's support that we can provide this incredible trail system for skiers
today--and for generations to come. We hope you can join us out on the trails this winter!
Methow Trails
Issue date: October 15, 2016
Published Yearly
Methow Trails
309 Riverside Ave.
PO Box 147
Winthrop, WA 98862
Volume 10, Issue Number 1
Subscription price:
Free
Design & Layout:
Earth & Sky Studios, LLC
www.earthandskystudios.com
Printing:
Inprint Printing |
www.inprintprinting.com
©MethowTrails 2016, all rights reserved. All material herein
protected under U.S. and international copyright laws. No part of
this publication may be reprinted without express written permission
of publisher & designer.
Methow Trails
is a non-profit organization that was founded in 1977 to connect people to
the special nature of the Methow Valley and support community vitality.
Who We Are...
If you value what we do for trails
and our community, please
consider making a donation or
support our organization with the
purchase of an annual pass at
methowtrails.org
The Methow Valley, anchored by the
towns of Winthrop, Mazama and Twisp,
is located in North Central Washington
State and just south of the Canadian
border. Detailed directions to our slice
of paradise can be found on our website
at
methowtrails.org.
Wenatchee
Location