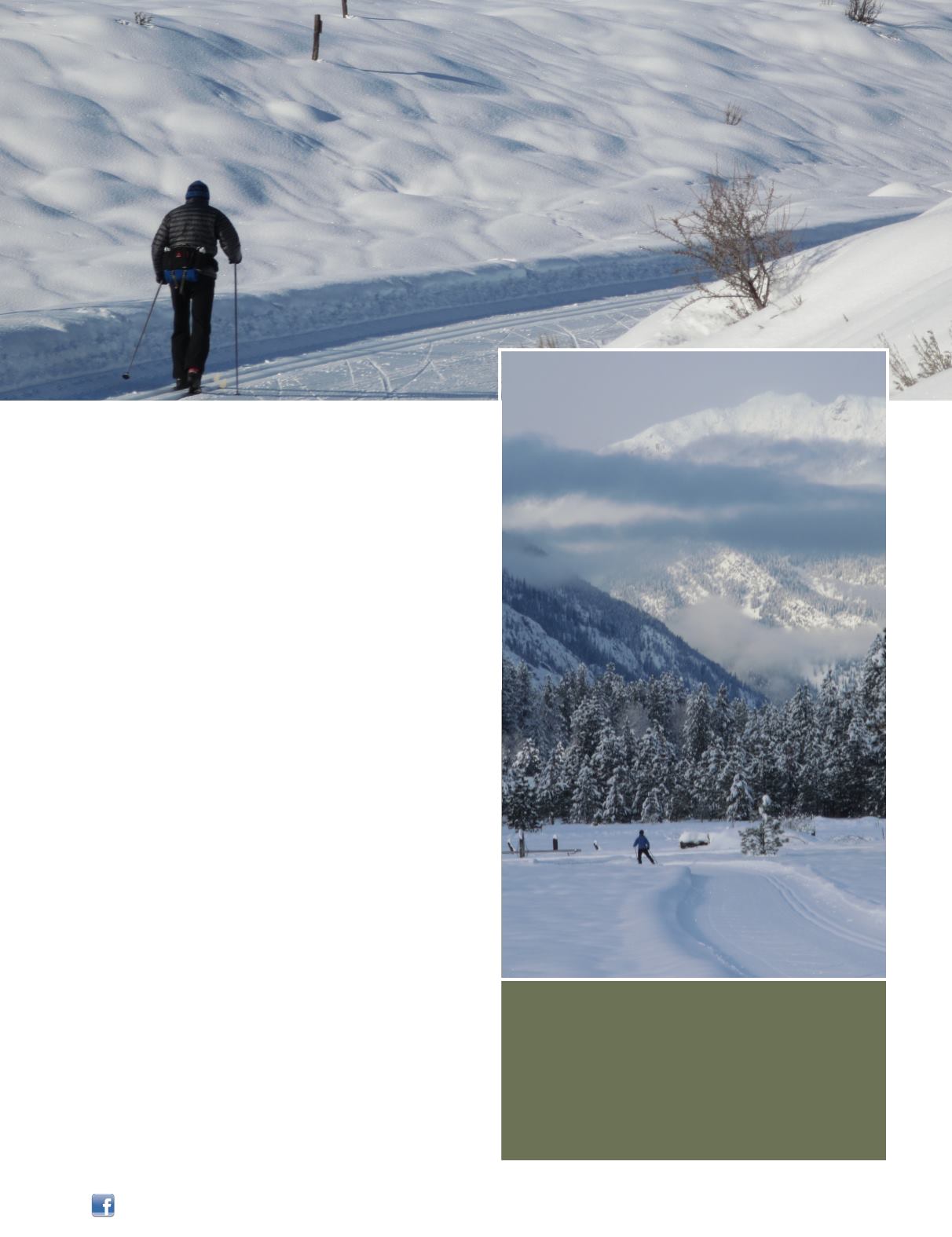 12
|
Methow Trails
It's cold, but not too cold. The sun glistens on the snow. You've got
first tracks – no one but the groomer and the occasional coyote
have crossed the ski trails this morning. Your lungs celebrate the
quick in and out of fresh mountain air. You stop, adjusting your
pole straps to buy a little time to slow your heart rate. You look up
and around. You suddenly feel so grateful, so humble, to be skiing
in a place this beautiful, this quiet, this wild.
But, there's more to this story: Something important hidden behind
the view. Many of those make-your-heart-soar spots along the ski
trail are permanently protected. Twenty-five families along the
ski-trail system have voluntarily placed conservation easements on
their land, thereby permanently protecting more than 1,644 acres
of the views you may take in while you glide along. So, that feeling
you just had? You can rest assured that future generations of skiers
may take in some of the very same views and experience the very
same feelings of gratitude.
Methow Trails' next-door neighbor in Winthrop, the non-profit
Methow Conservancy, works with private landowners to protect
the wide-open vistas, wildlife habitats, and agricultural soils that
make the Methow Valley so special. From Lost River to Pateros, the
Methow Conservancy has worked with more than 110 families to
protect more than 8,500 acres of land, including 31 riverfront miles.
The Methow Conservancy tis a nonprofit organization that works
with private landowners to protect the wide-open vistas, wildlife
habitats, and agricultural soils that make the Methow Valley so
special.
"While we can't guarantee that every view you enjoy from the ski
trail will never change, we can promise to continue to work with
private landowners who want to conserve their properties so that
future generations can know a Methow Valley like we do today,"
said Methow Conservancy Executive Director Jason Paulsen.
Celebrating its 20th anniversary this year, theMethowConservancy,
like Methow Trails, believes a community can shape its own future.
"Just as it is inspiring to think of all the families who choose to let
the ski trails come through their property so others can enjoy quiet
Hidden Behind
The View
This winter the Methow Conservancy will launch an effort
to gather Methow Love Stories – chances for you to share
what captures your heart about this place. Start crafting
your story now and look for more details about the Love
this Valley campaign on the Methow Conservancy website
at
www.methowconservancy.org
.
By The Methow Conservancy